Marca newspaper voted for the best team of La Liga in the 2019/20 season including 4 Real Madrid champions but only one Barca representative.
Real Madrid surpassed Barca to win the La Liga championship, so it's easy to understand that they have more representatives in the best squad of the season. Messi also took the top scorer position, but also the only representative of Barca.
Goalkeeper: Thibaut Courtois (Real Madrid)
Real Madrid have conceded only 25 goals this season and Courtois has made a great contribution in that achievement. You may not be better than Jan Oblak but you absolutely deserve to be selected.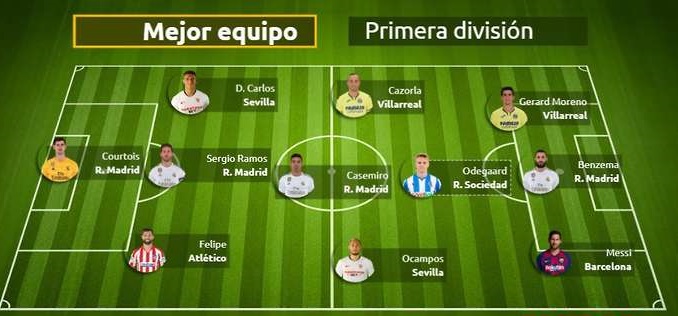 Defender: Felipe (Atletico Madrid)
After arriving from Porto last summer, the experienced Felipe proved extremely solid for the famous defense of coach Diego Simone.
Defender: Sergio Ramos (Real Madrid)
Ramos has scored 11 goals in La Liga this season and plays the role of captain leading Los Blancos to glory.
Defender: Diego Carlos (Sevilla)
Carlos came from Nantes and played 35/38 matches in La Liga for Sevilla helping the team finish fourth.
Midfielder: Casemiro (Real Madrid)
There is no doubt that Casemiro spent the best season in white. He only missed 3 matches and was always important for coach Zinedine Zidane.
Midfielder: Santi Cazorla (Villarreal)
At 35, the former Arsenal star still shone for Villarreal, playing 35 games and scoring 11 goals. He will leave to move to Al Sadd.
Midfielder: Lucas Ocampos (Sevilla)
The Argentine created an incredible season with 14 goals for Sevilla to win tickets to the Champions League.
Midfielder: Martin Odegaard (Real Sociedad)
The 21-year-old is ready to play for Real Madrid's first team when called back. He played an outstanding role at Sociedad when the club won 6th place and participated in the Europa League.
Forward: Lionel Messi (Barcelona)
Messi's influence on Barca is enormous, reflected through 25 goals and 21 assists.
Forward: Gerard Moreno (Villarreal)
Moreno has scored 18 goals in 35 matches for the Yellow Submarine, becoming a phenomenon in attack.
Forward: Karim Benzema (Real Madrid)
Despite being 32 years old, Benzema always knows how to find the opponent's net, with a total of 21 times, contributing greatly to the championship team.